Q: I notice you do not include the advertisers website address. Is there a reason for that?
A: We didn't see the reason to list the actual URL to the site since the link is there that takes the person to that site unobstructed by any frames that would hide the URL. When you click on a link the site loads in a new browser window with the sites URL displayed up top. The same is true for the Ad Spaces that are displayed on the left of each page.
Update: We are currently in the process of adding website URL's to all of the listings because we have had so many requests. 10/09/2001 We should be complete the changes within the next 30 days.
---
Q:
Why don't you make the submission form so that it can be filled out on the computer and then printed and mailed to you?
A: We have submission form on the site that allows you to send your application online and then we mail you a invoice and a completed application needing only your signature. Online Submission Form
---
Q:
Have you considered breaking down the current categories into smaller sections?
A: We will in the future, if the listings on any specific page become to great to give all the listings adequate exposure we will then break the pages down into smaller searchable sections. We have no plans on breaking down any of the pages now as that would just create a bunch of empty sections in the site.
---
Q:
Do you plan to take forms of payment as used on auction sites like PayPal which will accept payment on-line and forward it to your account?
A: We now accept payment through PayPal. A secure online payment company that is free for our customers to use. It juts takes a few minutes to sign up and complete the transaction. Once we receive your online form application we will send a PayPal email invoice for payment.
---
Q:
What will my listing look like?
A: Your listing will look very much like the one below including photo/logo, size and color:
Sportsman Fishing Adventures Ltd.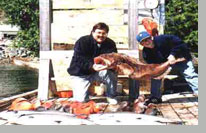 P.O. Box 645
Gold River, B.C. Canada V0P 1G0

Contact: Paul Smith
Phone Number: (250) 283-2142
Email Address: bookings@sportsmanfishing.com
Website: http://www.sportsmanfishing.com
Primary Location: Located in Nootka Sound on the west coast of Vancouver Island in beautiful British Columbia, Canada.
Species: Bottom Fish, Halibut, Lingcod, Red Snapper, Salmon, Steelhead, and Trout.
Years Experience: 15+
Service Type: Freshwater and Saltwater Guides
Fishing Report: Yes
---
More Questions and Answers will be added to this section as they come in.
---
| Home | Advertising | Contact | FAQ | Getting Listed | United States | Canada | Mexico | Search
If you got this page from a link and would like to view the rest of our site please click here.