Maverick Charters Ltd.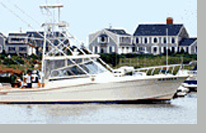 P.O. Box 148
Hope Valley
Rhode Island 02832
Contacts:
Capt. Jack Riley
Phone Number:
(508) 509-0113
2nd Phone Number:
(401) 539-8281
Email Address:
Website:
http://www.maverickchartersltd.com
Primary Locations:
Cape Cod, Ma. and The Islands Rhode Island
Species:
Striped Bass, bluefish, school tuna, yellowfin, giant bluefin tuna, sharks, bonita and albacore
Years Experience:
20
Service Type:
Saltwater and Freshwater Charters
Fishing Report:
No
Articles:
No
Comments:
We offer full and half day trips for stripers, blues, tuna and shark leaving from Harwichport, Ma. Fishing tackle includes conventional, spin or fly based on the anglers choice and conditions. We carry a maximum of six(6) passengers on our 38' Topaz sportfisherman equiped with full electronics, generator, microwave, electric stove and head. Enjoy the benefits of our experience pursuing these great gamefish.